A. Carlota Moliner y Teckenburg
Born in an international setting, the attorney A. Carlota Moliner y Teckenburg graduated Law School in Madrid, and speaks English, French, German and Spanish. Graduated from the Master of Legal Practice and Procedure of the Financial Studies Center of Madrid, to undergo efficiently and effectively all kinds of trials. Registered in the Spanish Bar from Alicante (ICALI) and with 23 years of experience in the extra-judicial and judicial sector, she has specialized in meeting the needs of expatriates' in the province of Alicante, taking care of a wide range of issues from property law, inheritances, family law, administrative matters and tax.
Swiss of origin from the Grisons Canton and plurilingual (Spanish, French, Italian and English), Miguel Arturo Mengotti is a collaborator and Spanish legal advisor since 1993, with a vocation to business. Specialist in real estate investments, import and export, commodities and financial matters, he negotiates and advises.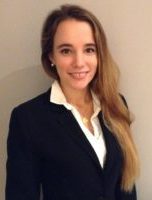 International individual, of Swiss, German and Spanish origin, Ana Karín Mengotti has graduated from Law School at IE University with a focus in Transnational Law. Trilingual in Spanish, French and English, with knowledge of German and Italian, she assists Bufete Jurídico in all its areas.